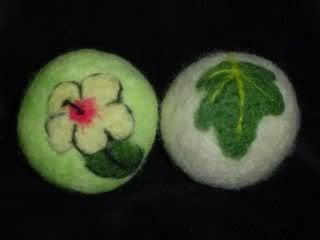 Basic supplies:
*felting needle(s). 
*foam pad.  I use chair pads from joanns. This pad is your work surface, a place for the needle to land.  If the needle goes all the way through your project (and it will) you don't want to have your needle tip hitting a hard surface.  The needle(s) will ruin the surface and the needle tips can break. *** This supply is required if using needles.
* wool.  batting/roving.
*section of of lycra nylon/tights
Basic safety.
*keep your work on the foam.  Don't get in the habit of picking up the project with one hand while needle felting with the other.   You're sure to stab yourself. 
*listen to tv but do not watch tv while you felt.  You may *think* you  have great depth perception and spatial awareness, even while looking away...you don't.  You will learn this after felting a thumb to your project.
*do not share needles.
 
Simple Combo (needle and wet) ball.
#1 Take a chunk of wool batting and pull it into 2 pieces
#2 make one piece a ball(base) and leave the other piece flat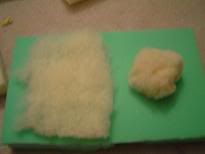 #3 place the ball onto the flat wool batt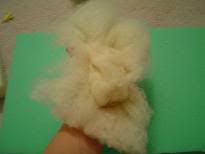 #4 Draw up the the flat piece like a pouch around the base and needle felt into a ball.  ***the barbs on the needle force the fibers to join together. ie felt.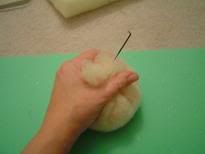 #5 (optional only if you're wet felting) place ball into a section of lycra tights.  You can use pantyhose but the lycra gives up the wool easier.  Once tied up at both ends, send it through the washer. For a front loader, I've experienced good felting at warm.  For a top loader, I prefer hot on high aggitation.  Remember, once you felt you can't go back.  You can get a harder felt, but not a softer one.  So you may want to experiment with settings to get your desired felt density.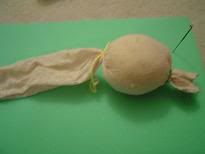 #6 Remove felted base from stocking and place on a  smooth out section of roving.  Roll the base up in the roving.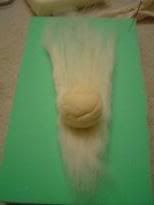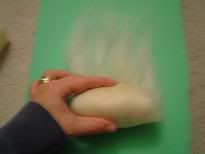 #7 felt into the shape of a ball again.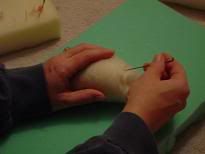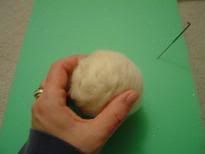 #8  Start adding your decoration.  I recommend using LIKE FIBERS if you're wet felting.  Don't mix batting and roving here.  Personally, I don't even mix breeds.  I've found you get a cleaner felt if you don't cross breed. lol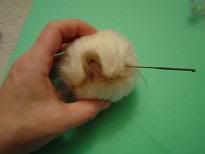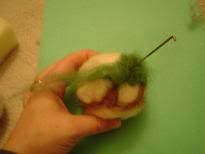 sailboat and tree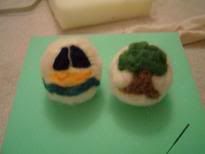 #9 Place back into the tights and send through the washer again.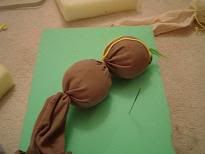 #10 wet ball fresh from the washer...set on top of the dryer to dry.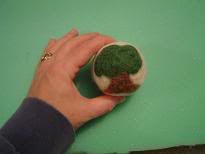 More examples of the same process....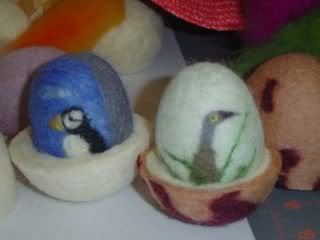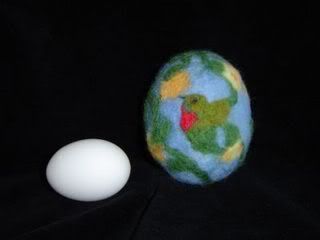 Was this tutorial helpful?  Consider buying me a cup of coffee for $ 1.94.  Your purchase will help cover the costs around here and encourage more tutorials like this.  Love, Katie
   Cuppa Jo for Katie 1.94